The Church Sends (Acts 13:1-3 from NVBC Mission on Vimeo.
This is Pastor Doug's final message at North Valley Baptist. Acts 13:1-3 tells of the church in Antioch being led by the Spirit of God to release Saul and Barnabas to a new ministry assignment. It was a decision that emerged from a time of prayer and fasting and hearing from God. When we come to a fork in the road in life, it is a good reminder that we need to pray and fast and listen for the leading of God, and then be willing to walk in faith as we passionately follow Jesus Christ.
Powered by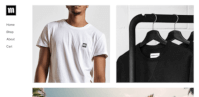 Create your own unique website with customizable templates.